Green Forest was established in 1993 and in 20 years it became a truly diverse and environmentally conscious organization. From its humble beginnings of vegetable plant production in a small greenhouse, Green Forest has evolved into the biggest and most awarded landscaping company in Cyprus as well as one of the biggest producers and suppliers of native and imported plants.
In 2009 our company's pursuit for excellence was recognized by the Cyprus Employers and Industrialists Federation, which, in collaboration with the Ministry of Commerce Industry and Tourism and the Institute for the Promotion of Research and Innovation, awarded Green Forest with The Innovation Award for the Primary Sector for the establishment and operation of a multifaceted model nursery, which combines the cultivation of a huge variety of plants, trading, garden landscaping and maintenance services. In 2012, European Business Awards, an independent awards program designed to recognize and promote excellence, best practice and innovation in the European business community, awarded Green Forest with the European Business Award; the most prestigious award any European company can be awarded with.
During its first years, the company focused on expanding its greenhouses and increasing productivity with the use of the latest technology in plant producing. A variety of plants such as poinsettias, chrysanthemums, fuchsia, flowering and herbal plants, gerbera, begonia and indoor plants were being added gradually. As a professional horticulturist with extensive academic qualifications, the founder and the managing director of the company, Tryfon Tryfonos has been striving to develop the right climatic conditions and use of appropriate soil mixes in order to produce healthy plants that would be planted successfully. Today, Green Forest is able to deliver high quality plants, gardening materials and landscaping services to a wide range of clients, local businesses and authorities, as well as to professional and novice gardeners. In 1995 our company diversified its operations and offered complete packages of full landscaping solutions. With its highly trained teams of agriculturists, irrigation system engineers and designers, Green Forest soon became Cyprus' leading landscaping company with 114 personnel, 12 construction crews and 27 maintenance crews serving private villas, luxury hotels and resorts as well as public green areas and parks.
Our main achievements during Green Forest's first 20 years:
In 2012 we were awarded with the European Business Award for our landscaping and production excellence.
In 2009 our business model was awarded with the Innovation Award for the primary sector for the establishment of a multifaceted nursery.
We have developed a modern and fully automated rooting facility for cuttings and seeds.
In 2009 we designed and constructed  the unique botanical park "Eleouthkia" which showcases 13 theme gardens with more than 50,000 plants of 1,800 species.
Our greenhouses (which cover an area of 40,000 sq. m.) and the open planting areas (108,000sq.m.) used for intensive cultivation and production are fully equipped to control climatic conditions.
We are now in a position to offer more than 1,000,000 plants of the highest quality at unbeatable prices.
We have established a team of trained professionals specializing in designing, installing and maintaining gardens for residential and commercial properties.
The company's expansive garden centers in Anarita and Yermasoyia are the most modern facilities in Cyprus carefully incorporating planned and extensive plant and pot showrooms, coffee lounge, library and children's playground.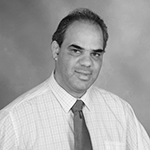 TRYFON TRYFONOS: Founder and CEO
Tryfon founded Green Forest in 1993 and he's the CEO and main shareholder of the company.
He holds a BA (bachelor) in genetic biotechnology and holds a Masters degree (Msc) in Garden Design – Floriculture from Peoples' Friendship University of Russia.
He is President of the Paphos District Committee of Agriculturists and Vice President of the Pancyprian Council of Agriculturists. He's also the President – Coordinator of the Association of Nursery Owners of Paphos, member of the Pancyprian Association of Nursery Owners and member of the Committee for A Green and Clean Paphos. He also takes apart in various other environmental organizations. He is also a member of the Executive Secretatariat of the Federation of Environmental Organisations. He attended numerous seminars in Greece, Holland, Israel and Italy regarding plant production, landscaping and gardening. He's married and father of three daughters.